Product: Peracetic Acid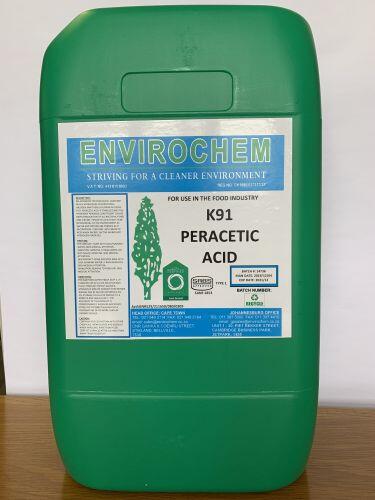 About
Peracetic Acid
TOP 3 Benefits:
Health & Ecotoxicity
Fit for Purpose Certified
Environmental Management System
Peracetic Acid is a sanitiser that is effective against microorganisms and mould. It is suitable for floors, walls, equipment, tabletops, wooden food bin, CIP and stainless steel prep tabletops. The product needs to be diluted to between 0.2% and 1% before use.
Peracetic Acid is an advanced technological sanitiser which supersedes conventional halogen sanitisers (chlorine & iodine etc). Peracetic Acid is stabilised and the hydrogen peroxide constituent causes rapid eradication of all bacteria, fungi, and viruses. Peracetic acid is not to be detrimental to the environment as water and oxygen are formed as it decomposes. It contains 40% Peracetic acid when packed.
Achievements:
Building/Product Synergy
Health & Ecotoxicity
Considered safe to use
Issues of concern
Corporate Social Responsibility
All marketing environmental claims verified accurate
Complies with South African law
Environmental Management System
Fit for Purpose certified
Made in South Africa
Made in South Africa from majority South African
WELL Recognised
More information:
This product is certified as Bronze Only.
Issues of Concern/Red Lights Comments:
The products have successfully passed the GreenTag Health and Ecotoxicity Risk Assessment Process with issues of concern or red lights comments existing regarding the toxicity of the products. The post evaluation risk of these substances have been classified as 'Low' as both Envirochem and their suppliers have sufficient measures in place to minimize risk. The product is not considered safe for ingestion and should not come in contact with the eyes or skin in its concentrated form. Envirochem prescribes the use of goggles, gloves and long-sleeved shirts when using this product. It should not be directly disposed of into natural waterways.
---
Certified under:
Global GreenTag Cleaning Products Standard V1.1
Rating tools relevance:
GreenStar SA 'Existing Building Performance v1' Rating Tools Credits:
o EB-MAN: Green Cleaning Performance
How will you use GreenTag?
Manufacturers:
Make your product stand out, unlock the barriers to major markets.
Get Global GreenTag certification to stand out as a leader, differentiate your product from the pack and win in the rapidly expanding green marketplace.
Green consumers:
Create your own healthy, sustainable home, interiors and lifestyle.
Discover our work with the Beauty & Personal, Cleaning and Building & Interiors industries or find out more about GreenTag.
Global GreenTag certified products pass the world's toughest standards to protect you, and your family's health and safety, minimise your impact on our finite planet and put the power of selection back in your hands.
Professionals:
Save time and money selecting products that deliver and protect your business from risk.
Find out how Global GreenTag certified products pass the worlds toughest standards for health, eco performance and safety.
Recognised by major green rating schemes, GreenTag is your one-stop certification to choose or evidence product selections.